Important news: Update Bachelor intro parents & Master Kick-off buddies
Upcoming activities
FYC escape room
Wednesday, 05-08-2020 - 20:00
Borrel
Thursday, 06-08-2020 - 16:00
Borrel
Thursday, 13-08-2020 - 16:00
Recent Photos
DRG lunch lecture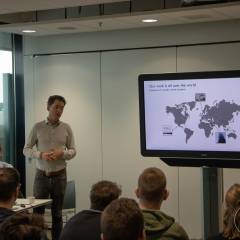 NTS lunch lecture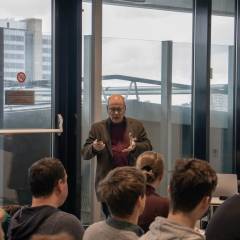 Demcon lunch lecture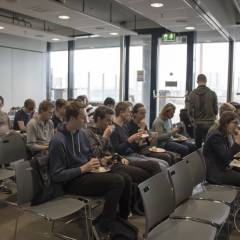 News
Update Bachelor intro parents & Master Kick-off buddies
Bachelor intro
The registration for intro-parents is open! Of course this intro week will be a bit different from previous years due to corona, but you are still needed! The intro week will be from August 17 till the 21st. Most likely the week will consist of 2-3 days of online activities and 2 days will actually take place on campus. It is compulsory for the intro-parents to attend a meeting on the 15th of August. You have to subscribe together as a father and mother (gender is of no consequence). Although there were some rumors about one of the intro-parents being a student mentor as well, this is no longer required. You can subscribe here! You can subscribe until the 14th of July.
Update: we have decided that whether or not you are a parent in the intro of 2020, will not be taken into account when drawing lots for the intro's of the coming years after 2020. Furthermore, the minimal amount of ECTS you should have gained at the moment of the intro is lowered to 55 ECTS.
Master Kick-off
Are you joining the Master Kick-off this year? Maybe you want to become a buddy! You will be a point of contact for your group, and guide them around the campus. You can also be a buddy if you join the Kick-off yourself, as long as you are familiar with the campus. Interested? Subscribe here! If you have any questions, please send a mail to mko@vdwaals.nl.
On-campus activities during exam weeks
During the exam weeks, three online activities will be hosted:
A drink, on Tuesday 23-06
A break activity, on Wednesday 01-07
A drink, on Friday 03-07
Subscriptions for all three activities are opened! Further details can be found in the descriptions of the activities.
For each activity, a maximum of 30 participants is in effect*. For the drinks, we aim to let as many distinct people join as possible, so the drawing of lots for the two will be intertwined. The drawing of lots for the break activity will be separately, as this will be a very different activity.
*In the TU/e corona update, it stated that on-campus activities with 100 people are possible as of July 1. However, in order for that to happen, a revised protocol has to be approved first. It is by no means sure that this will be approved before the 1st of July. This is why we still count on 30 people for the activities on the 1st and 3rd of July. We expect to host activities for larger groups during the summer break, but we'll keep you updated on this.
Mother's day tutorials
Hopefully you are aware that this Sunday, we celebrate mothers' day! It is THE day to thank your mom for all she has done for you, and what's better than to give a selfmade creative present? In the coming three tutorials, we will show you how to artcraft just like in primary school. And today, it will be a beautiful flower card!! 🐠 https://www.youtube.com/watch?v=0lZ47NwYVcU
Beer packages
*Update: The beer packages have been sold out*
Since de 'Salon' is closed right now, some beers will lose its quality before September first. If you want to support de 'Salon' you can buy a beer package, to still enjoy your Thursday afternoons in de 'Sal(online)'. If you want to buy one, please contact the Borrel Treasurer (Rein Albers) via a personal message and I, the Borrel Treasurer, will send you the address (in Eindhoven) where you can pick up the beer package. Also, a time slot will be given somewhere in the afternoon/evening next week Tuesday (05-05-2020), so to prevent a lot of people in the same place. These packages consist out of 8 different beers and will cost around 10 euros (These prices may differ due to different beers in the package). Thanks in advance for your support and stay safe!
Meeting documents General assembly
The meeting documents for the General assembly (GA) dated 21-04-2020 can also be found on the website. Log in, go to For members > GA.