Upcoming activities
Sinterwaals
Free
Monday
6th of December
18:00
NTS
Free
Thursday
9th of December
12:30
Discussion hour: Feeling down
Friday, 03-12-2021 - 12:30
Sinterwaals
Monday, 06-12-2021 - 18:00
DaVinci
Tuesday, 07-12-2021 - 18:30
NTS
Thursday, 09-12-2021 - 12:30
Recent Photos
Dies
Photonics infosession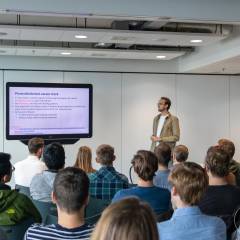 Constitution lunch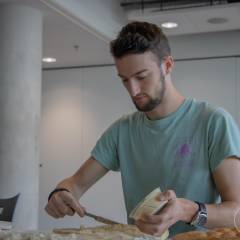 News
Book sale quartile 2
October 29th, 2021
Exam trainers wanted
October 6th, 2021
Van der Waals is currently looking for exam trainers for Advanced Calculus (2DBN10) and Applied Quantum Physics (3CQX0). The exam training will take place in the lecture-free week. You will receive a monetary compensation for six hours.
Please note that it is preferable (not mandatory) that your grade for the course was at least an 8 out of 10.
If you are interested, please send a mail to study@vdwaals.nl and indicate which of the two courses you are interested in.
Borrels: QR code, no reservation
September 29th, 2021
From this week on the COVID-19 measures have changed. For the Borrel this means that you do not have to subscribe anymore and can just come by and see whether there are places left. This does mean that we will ask for a QR code and ID, to confirm your corona pass. Hopefully we will see many of you on Thursdays at the weekly Borrel 🙂
Lustrum paper
May 9th, 2021
The lustrum is closing in and you can obviously not wait until all the lustrum activities start. To kill the time between now and the activities the General Lustrum Committee created the lustrum paper! Enjoy a small piece about 'time', check who organised your favourite lustrum activity, or complete one of the puzzles at the end. Especially the one created by Da Vinci Derivatives. Solve this puzzle correctly and perhaps you will win a beautiful Da Vinci Bluetooth speaker! The lustrum paper can be found as an attachment to this news post or printed in the Van der Waals room.
Subscriptions lustrum activities are open
May 3rd, 2021
The 12th lustrum of Van der Waals will be celebrated with a lot of fun activities from May 12 and May 28, of which the subscriptions are now open! The activities are both on campus and online! Activities range from a lustrum reunion to an online N-Party, so there will definitely be something that suits your interests!
We hope to see you there 🙂