Upcoming activities
Thales lunch lecture
Thursday, 21-09-2023 - 12:40
Photonics information session
Tuesday, 03-10-2023 - 12:40
Recent Photos
Gupta Workshop
SMART Photonics Lunch Lecture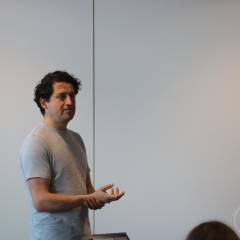 ASML Case Night
News
The Study Tour Abroad is looking for committee members!
August 3rd, 2023
Organizing the Study Tour Abroad (BuEx) gives you the opportunity to develop different skills. Whether you want to learn how to keep track of finances or if you want to learn how to contact businesses, the BuEx is the committee to do this! This trip has a good balance of culture, science and free-time to explore the beautiful (still undecided) destination. If you have any questions or if you are interested, you can contact me at l.pennekamp@student.tue.nl.
Quantum Gravity Conference
July 5th, 2023
From 10-14 July, the Quantum Gravity conference will take place in Nijmegen! Here, professors and doctors from all over the world will come together to talk and learn about Quantum Gravity. In this field, people try to describe gravity according to the principles of quantum mechanics with the aim of better understanding situations in which both gravity and quantum effects play a significant role, think black holes and neutron stars.
Two lectures have been specially tailored for students. On Tuesday July 11th, from 12:30 to 13:30 in HG00.304, professors from Japan en Germany will give a lecture for bachelor level students. On Wednesday July 12th, 12:30 to 13:30 in HG00.307, professors from Spain and Canada will give a lecture for master level physics students. You are welcome to attend both talks, regardless of your education level. There will also be ice cream, smoothies and snacks provided! For more information, see: https://indico.imapp.ru.nl/event/106/.
Buy your Borrelsocks!
June 8th, 2023
We're excited to announce that for the upcoming Borrellustrum (13-17 November), we will once again be offering a pre-order option for our socks. By ordering now, you can ensure that they will be ready in time for the lustrum. These fantastic socks are available at an unbeatable price of only 7 euros per pair!
Don't miss out on this opportunity to get your hands (or feet) on these amazing socks. Place your order today to secure your pair for the Borrellustrum.
Fill in this form to get them! https://forms.gle/enaiBPRadCTWP9cH9
Join the ProZAc pubcrawl!
May 17th, 2023
Thursday June 8th, 2023, the annual ProZAc pubcrawl will be held on the TU/e campus!🥳 As always, you will get to visit 4 pubs of different study associations and you will be provided the possibility to enjoy 2 drinks in each pub.🍻 The pubcrawl will start at 16.00 and will end at 20.00. Afterwards you will be granted access to festival Plugged where you will also get a free drink!
You can register via the link below in teams of 2 to 10 persons with whom you will visit the same pubs. Registration deadline is May 25th 2023! Please note: each team member has to register separately. See you on June 8th!
💚 The Prozac
Activitity committee of SvBMT Protagoras
https://www.protagoras.tue.nl/studenten/vereniging/agenda/2517-borreltocht-prozac
FSE is looking for board members!
May 11th, 2023
The Federation of Study Associations Eindhoven is looking for board members! FSE is the umbrella association of the study associations in Eindhoven, including Van der Waals. The FSE is in contact with the study associations and is concerned with topics such as the campus bars, student wellbeing, career orientation and education. The FSE also helps organising events such as MomenTUm and the Introduction week.
Interested in topics like these? Maybe a part-time board year at FSE is something for you! For more information, be sure to send an email to fse@tue.nl or walk by their office in Luna 1.244.