Recent news: Reopening Van der Waals room
Upcoming activities
Borrel
Free
Tuesday
29th of September
16:00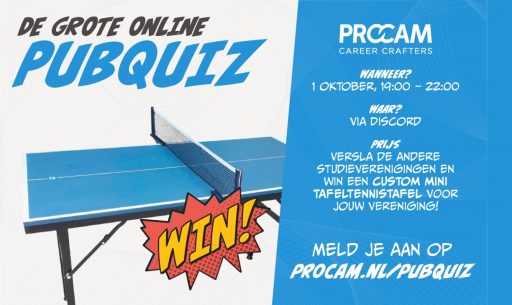 The Borrel
Free
Tuesday
6th of October
16:00
First-years Borrel
Free
Wednesday
7th of October
16:00
The Borrel
Free
Thursday
15th of October
16:00
Borrel
Tuesday, 29-09-2020 - 16:00
KlemKu roleplaying session
Wednesday, 30-09-2020 - 19:00
Procam pubquiz
Thursday, 01-10-2020 - 19:00
AC graffiti workshop
Monday, 05-10-2020 - 19:00
60th dies celebration!
Tuesday, 06-10-2020 - 09:00
The Borrel
Tuesday, 06-10-2020 - 16:00
First-years Borrel
Wednesday, 07-10-2020 - 16:00
VENI Borrel
Friday, 09-10-2020 - 17:00
The Borrel
Thursday, 15-10-2020 - 16:00
Recent Photos
Instroom Master Lunch
Constitution Lunch
EP1 Lunches
News
Reopening Van der Waals room
August 31st, 2020
After months of being closed, Van der Waals will be open for walk-in once again from 03-09 onwards! Though in a different fashion, due to the strict limits on the occupation of our rooms. You can come by in the colloquium room on floor 6 to ask your questions, have a chat and/or enjoy a fresh cup of coffee or tea. If you want to make an appointment, you can pick a time slot in the document that you can find under 'For members', then 'Make an appointment' (you will have to log in first). The people in this schedule will have priority over spontaneous visitors. If you need a specific board member, it's best to send them an email or a text message to ask for their availability (and presence). We are looking forward to seeing you in person again!
Borrel update
August 28th, 2020
As most of you know, there are Borrels every Thursday. Even during the summer holiday! But, due to the unavailability of a proper location on the TU/e campus, the Borrel on Thursday 3 September has been cancelled.
But all other Borrels in the foreseeable future will continue! Due to a higher expected number of visitors, the subscription-based Borrel is reintroduced. You can subscribe for these Borrels on this website when you click on the activity on the agenda. See you there!
FYC Escaperoom
August 18th, 2020
During the corona times, the first years' committee, Heisenberg: Breaking Brains, has been working hard on an online escaperoom for your enjoyment! The escaperoom has now been made available for your enjoyment during these strange times. We hope you will enjoy!
In this escaperoom your team is a secret intelligence team of the biggest and baddest drug company in town. Please pick a team name for your highly intelligent selves. your adventure will start when you are ready…
Just some extra information: This escaperoom is best played in Google Chrome on full screen mode. So we really advise using this browser.
The escaperoom can be played on the following site:
On-campus activities during exam weeks
June 16th, 2020
During the exam weeks, three online activities will be hosted:
A drink, on Tuesday 23-06
A break activity, on Wednesday 01-07
A drink, on Friday 03-07
Subscriptions for all three activities are opened! Further details can be found in the descriptions of the activities.
For each activity, a maximum of 30 participants is in effect*. For the drinks, we aim to let as many distinct people join as possible, so the drawing of lots for the two will be intertwined. The drawing of lots for the break activity will be separately, as this will be a very different activity.
*In the TU/e corona update, it stated that on-campus activities with 100 people are possible as of July 1. However, in order for that to happen, a revised protocol has to be approved first. It is by no means sure that this will be approved before the 1st of July. This is why we still count on 30 people for the activities on the 1st and 3rd of July. We expect to host activities for larger groups during the summer break, but we'll keep you updated on this.
Intro parents (still wanted)
June 15th, 2020
The registration for intro-parents is open! Of course this intro week will be a bit different from previous years due to corona, but you are still needed! The intro week will be from August 17 till the 21st. The week consists of 2 offline days and 3 online days (on the last online day, presence of the intro parents is not required). It is compulsory for the intro-parents to attend a meeting on the 15th of August. You have to subscribe together as a father and mother (gender is of no consequence). Although there were some rumors about one of the intro-parents being a student mentor as well, this is no longer required. You can subscribe here!
Update: we have decided that whether or not you are a parent in the intro of 2020, will not be taken into account when drawing lots for the intro's of the coming years after 2020.
Update: if you cannot attend the intro parent instruction day on August 15, this is accepted provided the other parent will attend.